Digital marketing is an emerging and rapidly-evolving field, and it's important—vital, even—to stay on top of latest industry trends and keep up with expert insights. 
Thankfully, many of the world's best marketers are kind enough to dish out their best insights and techniques via their social media channels and blogs—and pro bono, we might add.
But before you tap the follow button on anyone with "digital marketer" in their Twitter bio, you should know exactly who you're following and if they have proven experience in the field.
After all, not all marketers (and thus, insights) are created equal: some marketers are more way experienced and on top of trends than others—meaning the insights they'll drop into your feed can vary in quality (and often, greatly).
So, when we went to put together our list, we dove deep, looking for marketers that:
Publish unique and relevant marketing content on a consistent basis throughout 2018
Are a qualified digital marketing professional: the CEO of a marketing firm/company, a distinguished social media manager, or a prominent marketing freelancer
Bring something special to the table (we're talking humor, personality, charisma)
With that on the table, we are proud to present our official list of the top 33 digital marketers to follow in 2019. Let's jump into this thing!
Andréa Jones
Jones is a Canada-based social media strategist and digital marketer. She helps entrepreneurs create great content for their social media channels, and frequently shares her experience around the net. 
We're huge fans of her podcast, the Savvy Social Podcast. Her most recent episode on preparing your social media for the holidays is insanely helpful and jam-packed with article ideas and holiday post optimization tips. 
Connect: Website / Twitter / LinkedIn
Ann Handley
Ann Handley is a best-selling author, speaker, and Chief Content Officer at MarketingProfs. Her social channels are full of awesome content on content creation, podcasting, and blogging. Give her a follow for a great mix of insights.
For in-depth insights, check out the MarketingProf's knowledge base. It's chock-full of articles, case-studies, videos, and other informational content curated by Handley and her team. We promise you'll learn something awesome.
Danny Sullivan
Danny Sullivan is a founder of Marketingland and Search Engine Land, two of the web's best marketing blogs. Now working for Google, he educates the public about search and SEO. On social media, you'll 
Check out his social media presence for awesome digital marketing insights.
Connect: Twitter / Website / Facebook
Rand Fishkin
Fishkin is the founder of Moz and author and speaker on all things SEO. He's active on social media, but is best known for his Whiteboard Friday series on the Moz blog. Here, you can find his (and his teammates') insights on SEO and content marketing.
Marcus Sheridan
Marcus Sheridan is an entrepreneur and marketing speaker with a knack for social media. He was recently named 1 of 20 "Speakers You Don't Want to Miss the Opportunity to See" by Forbes, and has been published in a number of blogs and other publications.
Neal Schaffer
Neal Schaffer is a digital marketer and author of social media books like Maximize Your Social.
His social media accounts are stocked with social media thought leadership and links to blog posts written by him and others in the space. But even cooler, his podcast will keep you up-to-date with trends.
One of our favorite episodes is episode 130 that covers influencer marketing. He brings on Eric Dahan, the co-founder and CEO of OpenInfluence, to discuss building an influencer marketing campaign in 2019 from start to finish.
Connect: Website / Twitter / LinkedIn
Logan Lyles
Lyles is a marketer and co-host of the B2B Growth Show, a podcast for B2B marketers and growth hackers.
The podcast is now over 800 episodes deep, and Lyles and his co-host frequently interview other major players in the digital marketing space, dishing awesome insights and new ways of thinking.
Our favorite episode is #720 with Steve Benson. In the episode, the pair walks us through the importance of meeting with your clients, prospective clients, and colleagues face-to-face on a regular basis.
Wil Reynolds
Wil Reynolds is the founder of Seer Interactive, an SEO and paid search consulting firm. He often speaks at marketing events about SEO, marketing, and big data.
He isn't blogging as much as he used to, but Reynolds publishes killer content when he does. Check out his post on how to write better marketing copy. We learned a ton, and have no doubt that you will too.
Connect: LinkedIn / Twitter / blog
Ann Smarty
Ann Smarty runs SEOsmarty.com, one of the leading SEO and digital marketing courses on the 'net. She frequently shares SEO insights that are sure to drive traffic to your (or your client's) websites on her blog, so make sure to give her a read.
Smarty charges for some of her courses, but has an impressive library of free content too. Our favorite is her Viral Content Buzz course, wherein Smarty shows you the ropes of creating viral media for major social networks.
Want more awesome insights? She guest posts around the web, too!
Stapho Thienpont
Stapho Thienpont is a co-founder of Sofia-based social media firm, The Marketing Family. When he's not busy wrangling in new clients, Thienpont posts awesome insights to his LinkedIn page about running a business and becoming a marketing entrepreneur.
Into video content? Make sure to follow Thienpont on LinkedIn. He frequently shares business advice, marketing techniques, and even personal stories to the network. Check out the above video on making amazing Instagram Stories.
Connect: LinkedIn
Ryan Deiss
Deiss is the founder of DigitalMarketer, an appropriately named training agency for marketers. On his Twitter account, you'll find him posting witty marketing insights, covering social media, blogging, as well as more traditional marketing methods.
For more long-form insights, stay tuned to the DigitalMarketer blog. It's quickly become one of our favorites because of the awesome growth hacks, tutorials, and infographics that Deiss and his team share on a weekly basis.
Heidi Cohen
Heidi Cohen is a marketer and journalist who has appeared on a number of publications around the web. Her content is focused on digital marketing tips, how to write awesome content marketing pieces, and content marketing news. 
Some of her best content is published on her website, The Actionable Marketing Guide. Cohen recently published a post on examining the top Fortune 500 social media accounts and using them for your benefit. 
Jorn Lyseggen
Lyseggen is the founder of Meltwater, a PR and marketing agency. He frequently posts Meltwater's best insights and other great insights to his Twitter account, like this article that discusses how Fintech companies can excel on Twitter.
Be sure to give him a follow to stay up-to-date.
Pete Krainik
Pete Krainik is the founder of CMO Club, the world's largest community of Senior Marketing Executives. On LinkedIn, you'll find Krainik posting digital (and traditional) marketing insights and sharing some of CMO Club's best content.
Want more insights on Krainik? Check out his interview on the CMO Club blog. Here, you'll get insights into Krainik's life and how he started CMO Club in the first place.
Louis Camassa
Louis Camassa is a managing partner at EMPATH, a marketing firm and brand consulting agency. His agency has quickly grown since launching earlier this year, already working with iconic brands like Gibson Guitars, Apple, and Microsoft.
When he's not working, he's running his LinkedIn video series, Dream in Digital. Make sure to follow him and watch the series weekly—it'll keep you in the loop with digital marketing news and insights.
Joe Chernov
Chernov is marketer with a passion for B2B businesses. He's currently the Chief Marketing Officer for Robin, a workday management solution used by Foursquare, Kayak, Twitter, and more.
On social media, you'll find him sharing short-but-sweet insights on B2B and marketing as a whole. We're especially big fans of his LinkedIn page as he's constantly commenting on the latest happenings in marketing and technology.
Connect: LinkedIn / Twitter / Website
Oli Gardner
Oli Gardener is the co-founder of Unbounce, a startup that specializes in making awesome marketing landing pages. He's also a frequent speaker at marketing events, quickly becoming one of the most important people in the digital marketing space.
On social media, he constantly shares some of the best marketing content from around the web, and occasionally posts his own articles too.
Ashley Faulkes
Ashley Faulkes is a Zurich-based blogger and SEO specialist who constantly writes about how to leverage SEO to increase sales and build a social following.
Check out Faulkes' blog for insights on Wordpress, SEO, and content writing. One of our favorite posts is his guide on taking a new website to the front-page of Google as fast as possible—definitely worth a read for all bloggers.
Connect: Twitter / Blog / Pinterest
Chris Ducker
Chris Ducker is the founder of Youpreneur, a business community for freelancers, marketers and entrepreneurs. He runs a weekly podcast called Youpreneur FM that frequently covers marketing trends, entrepreneurship advice, and more.
One of our favorite Youpreneur episodes is episode 313 where Ducker talks about building a personal brand. As it turns out, having a personal brand means huge returns for your actual brand, so make sure to give it a listen.
Shay Rowbottom
Shay Rowbottom is the founder and COO of Mikwaukee-based Margle Media. Her company produces high quality viral Facebook videos for its clients, and she's always posting awesome LinkedIn videos to prove that. These videos discuss marketing, business development, and more.
Connect: LinkedIn
Goldie Chan
Goldie Chan is the founder of Warm Robots, a social media firms that specializes in LinkedIn and video. She posts daily LinkedIn content about her travels, marketing, and even gives the occasional piece of life advice—both entertaining and informative videos.
Chan has actually become one of the most prolific LinkedIn video content creators. She was recently called the "Oprah of LinkedIn" by Huffington Post and actually works for LinkedIn as an instructor—pretty neat!
James Carbary
James Carbary is a social media marketer that specializes in podcasts. His company—Sweet Fish Media—specializes in making podcasts for thought leaders and executives. Follow him for insight on podcasts and how they can improve your brand.
Even cooler? He's one of the co-hosts of B2B Growth Show with Logan Lyes, one of the other marketers on this list! Their energy and knowledge of marketing synergizes on the podcast, so don't miss out.
Ahmad Munawar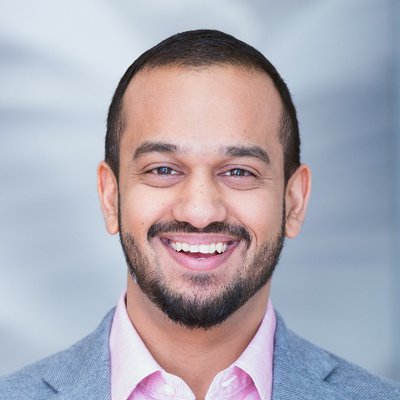 Ahmad Munawar is a Toronto-based marketing coach for Boutique Growth. He records LinkedIn videos while on his way out of meetings, after calls, and in other informal settings.
In his videos, he shares sales and marketing techniques, business tips learned in a meeting, and discussions how you can add value to your organization.  Check out one of our favorites above!
Connect: LinkedIn
Allen Gannett
Allen Gannett is an author and business owner that runs two video series on LinkedIn: #BookStuff and #AllenAsks. In these videos, Gannett gives us perspectives of the business world through the eyes of rising entrepreneurs and thought leaders.
In fact, earlier this year, Gannett released a new book: The Creative Curve! The book is jam-packed with information on digital marketing and how to find the right idea at the right time. It's definitely worth a read for any digital marketer.
Connect: LinkedIn
Casey Neistat
Casey Neistat is known for his YouTube vlogs and over-the-top advertising campaigns for Samsung, Mercedes Benz, and Nike. His YouTube channel is full of technical and inspiration for aspiring video marketers, so check out one of his videos the next time you need a boost.
Casey Neistat is also one of the first YouTubers to hit the 10 million subscriber mark, so he must be doing something right!
Connect: LinkedIn / Twitter / YouTube
Jeff Bullas
Jeff Bullas' blog has advice for increasing traffic to all forms of social media. Most notable, however, is his advice on blogging.
His team has written many guides that go in-depth on everything from blog monetization to turning content marketing blog posts into actual leads. Give it a read before you publish your next post—you might just find the secret to success for your next post.
Connect: LinkedIn / Twitter / Website + Blog
Darren Rowse
Follow Darren Rowse for awesome blogging and content marketing insights. His blog—ProBlogger—is full of great content and is a must-read for anyone looking to grow their content marketing blog's audience.
Even better, Rowse recently launched a podcast that discusses growing a blog and creating better content. Last week's show discusses how viral content can turn your blog from side-money to a main source of income—definitely check it out if you're interested in the craft.
Connect: LinkedIn / Twitter / Blog
Mari Smith
Mari Smith is a social media thought leader that specializes in Facebook marketing. She's constantly tweeting and posting about all things Facebook, sharing valuable insights on how to maximize Facebook and its paid advertising service to grow your brand.
Brittany Berger
Brittany Berger makes amazing video tutorials on content strategy and social media. Her videos are aimed at people just starting out in the content marketing space, and she provides great examples and free documents like content calendars to her audience.
So if you like awesome, free content, give her blog a read—right now.
Connect: LinkedIn / Twitter / Website
Donna Moritz
Visual media is a great way to increase social engagement, and Donna Moritz is its biggest advocate. Check out Mortiz' Twitter account and blog for awesome free tutorials on making engaging visual media that will boost your sales.
Connect: Twitter / Instagram / Blog
Jasmine Star
Jasmine Star is a photographer-turned-marketer that specializes in Instagram growth. Her blog has a ton of valuable information on how you can leverage Instagram to increase sales and drive traffic to your brand.
We're huge fans of Star's blog as she takes an artist's perspective to marketing. This makes her content much more appealing to those not traditionally trained in marketing.
Connect: Twitter / Instagram / Blog
Brian Clark
Brian Clark is the founder of multiple social media and content companies like Copyblogger.com, Studiopress, and others.
His impressive portfolio makes him a knowledge base for marketing and business. Online, he constantly shares his opinions, helpful information, and links to related content from around the internet. 
Connect: Website
Larry Kim
Larry Kim is the CEO of Mobile Monkey, an AI chatbot marketing service. He's constantly tweeting about all things social, from social media statistics to tutorials (to the occasional joke, too). Give him a follow for a daily dose of social media news.
Connect: Mobile Monkey / Twitter / LinkedIn
Michael A. Stelzner
Mark Stelzner is the founder of Social Media Examiner, one of the web's most well-known social media publications. The website covers everything from guides on how to better optimize your social media posts to updates and news on the latest social networks—something any fan of the Social Report blog will love.
Connect: Website / Twitter / LinkedIn
Brian Kelley
Brian Kelley—the founder of the blog The Points Guy—is one of the original writers in the travel miles space. Nowadays, his Instagram feed is mostly travel related, but you can learn a lot about how to create engaging travel posts by browsing through his profile.
Over to you!
So, now you know the our top 33 digital marketers to follow in 2019, but who are your favorites? Leave us a comment below, and we may add them to a future list! 
Oh, and no shame in link-dropping yourself—if you've really got it going on, let us know 😉
Need a great social media management tool? Try Social Report free for a month.